Follow Along On A Taste Adventure
HANDMADE. AUTHENTIC. ORIGINAL.

In Seattle's Pike Place Market and New York City's Flatiron district, visitors to Beecher's glass-walled cheesemaking kitchens witness first hand the crafting of our signature favorite, Flagship cheese, as well as many of the other award-winning cheeses we offer. By starting with fresh, pure milk from local farms and applying the traditional methods used by cheesemakers for thousands of years, our cheeses are free of artificial ingredients - making them just as delicious as the milk they are made from.
In 2003, Kurt Beecher Dammeier opened his first Beecher's Handmade Cheese in Seattle's historic Pike Place Market. For Kurt, Beecher's fulfilled an ambition beyond just making great cheese. He has long felt passionately about eating food free of harmful additives and preservatives. That's why everything we produce, from the handcrafted cheeses to the delicious side dishes and crackers, is authentic, original, full-flavored food made with ingredients we trust and are proud of.

We're so glad to have you join us. This tasting is an experience in rinds and affinage. Each of these three cheeses begins with the same recipe - the same cultures, the same make. The magic happens when the cheese curds are hooped and the aging begins.
Enjoy!
HOW CHEESE IS MADE
We collaborate with local, family-owned Jersey and Holstein dairy farms. Working closely with the farms ensures not only that we use only high-quality, premium milk, but also that the cows are humanely treated and fed only high quality feed without added recombinant bovine growth hormones (rBST). Beyond this careful steps, we follow the
traditional cheesemaking practices
used by artisans for thousands of years. Learn more here about how these delicious cheeses were made.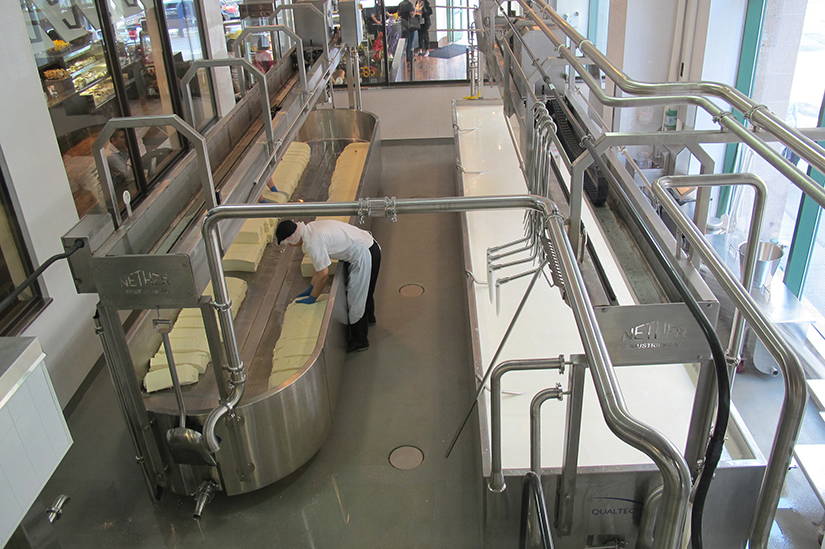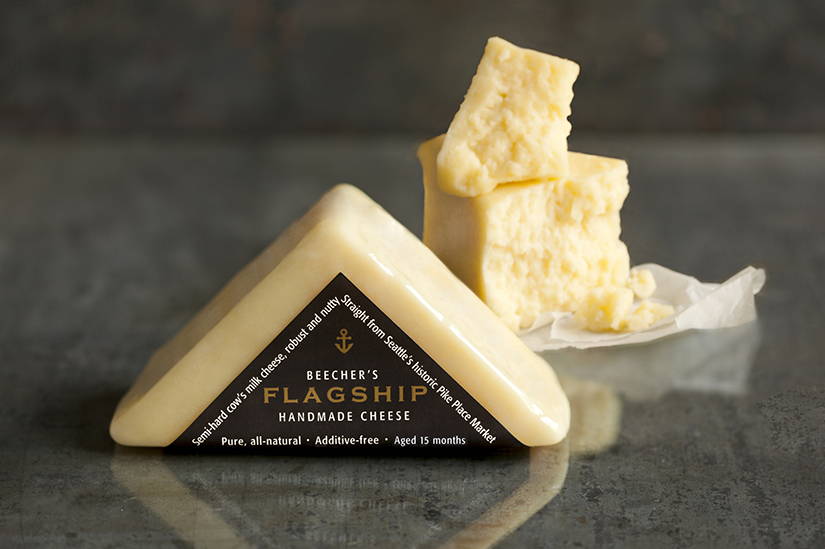 START HERE: FLAGSHIP CHEESE
When tasting cheese, we always start with what is considered the most mild of the cheeses, with each subsequent cheese bringing a little more powerful bite to your palate.
Beecher's signature cheese, Flagship (pasteurized, cow's milk), is certainly not mild in flavor, but it's a perfect place to start this tasting. Aged at least 15 months, it's popular for its uniquely robust flavor. A cross between Cheddar and Gruyère, Flagship is semi-sharp, rich, and nutty with notes of brown butter and a slightly crumbly texture.
Flagship has no-rind, meaning it's aged in a cryovaced block, losing no moisture and absorbing no additional elements from its environment.
Learn more about cheese rinds and how they effect the cheese experience here.
THIS CHEESE IS CHEDDARED!
We have a favorite saying around here: All Cheddar cheeses are cheddared, but not all cheddared cheeses are Cheddars.
Flagship - and all of the cheeses on your cheese flight - is a cheddared cheese, but not a Cheddar! This means they go through the process called cheddaring, but do not follow the specific recipe of Cheddar cheese. The process is a unique, traditional method aimed at reducing the amount of whey in the cheese and adjusting acidity. This adds additional flavor and texture characteristics to the cheese.
Typically, you can tell a cheese is cheddared because if you break the cheese in half with your hands, you'll notice that it breaks along the cheese curd line.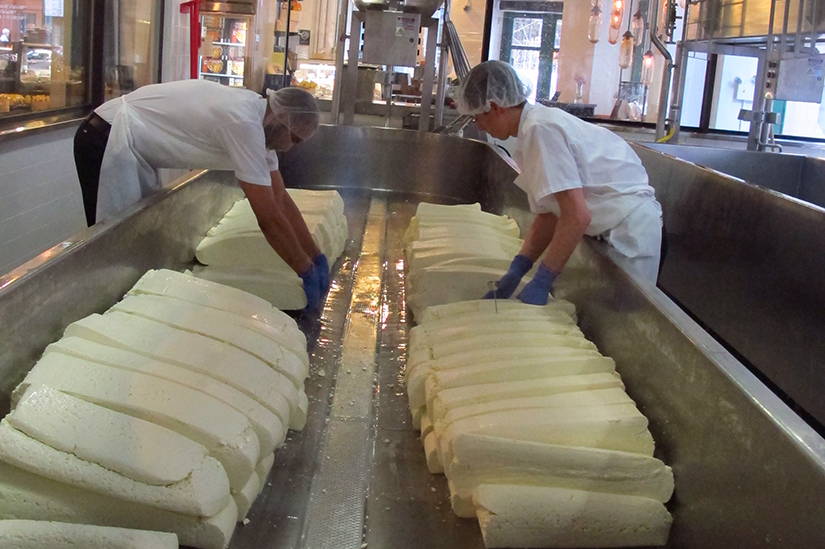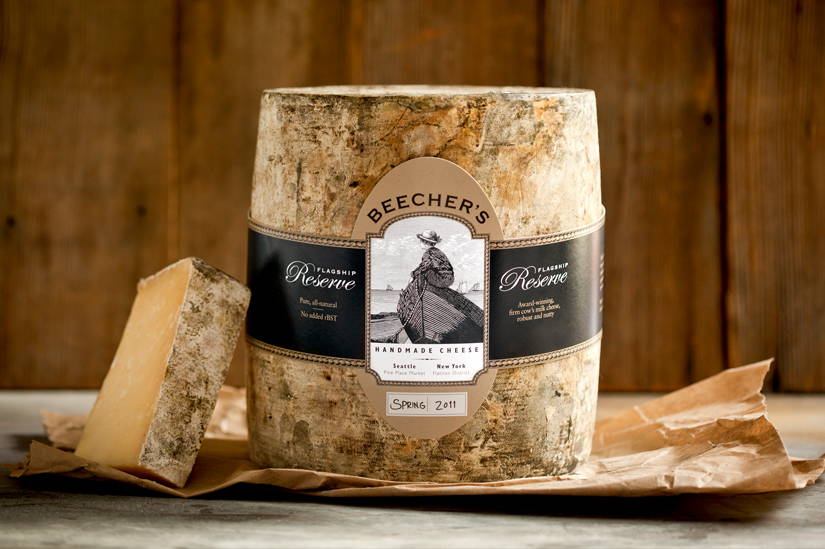 NEXT STOP: FLAGSHIP RESERVE
Flagship Reserve (pasteurized, cow's milk cheese) is a special version of our signature Flagship cheese, and has been voted the best clothbound cheddar in America by the American Cheese Society three times - most recently in 2019.
Flagship Reserve is traditionally cloth-bound and open-air aged. This method allows a 14 to 16% moisture loss during aging, concentrating the already rich flavor and producing a long finish. When tasting this cheese, you'll notice the dense texture that melts smooth in your mouth, along with rich flavors of butterscotch and a long, clean finish.
Keep in mind that this is the same recipe as our signature Flagship, but being a clothbound cheese makes all the difference to creating an amazing and new experience.
A SMOOTH FINISH: 4-YEAR EXTRA AGED FLAGSHIP
The first wheel of Flagship, Beecher's signature cheese, was handcrafted just as Beecher's Handmade Cheese opened its doors in Seattle's historic Pike Place Market in November of 2003. Now, Flagship proves it's age-worthy with this extra-aged version. Aged at least 4 years, uniquely robust and extra sharp, the flavors are nutty, rich and crumbly with sweet notes of tropical fruit.
Often, we hear from people who note that there are "crunchy bits" in our cheese. These bits, called tyrosine crystals, become more pronounced the older our Flagship gets. You also may notice these white crunchy bits in aged goudas and parmigiano reggiano. Learn more about tyrosine crystals here.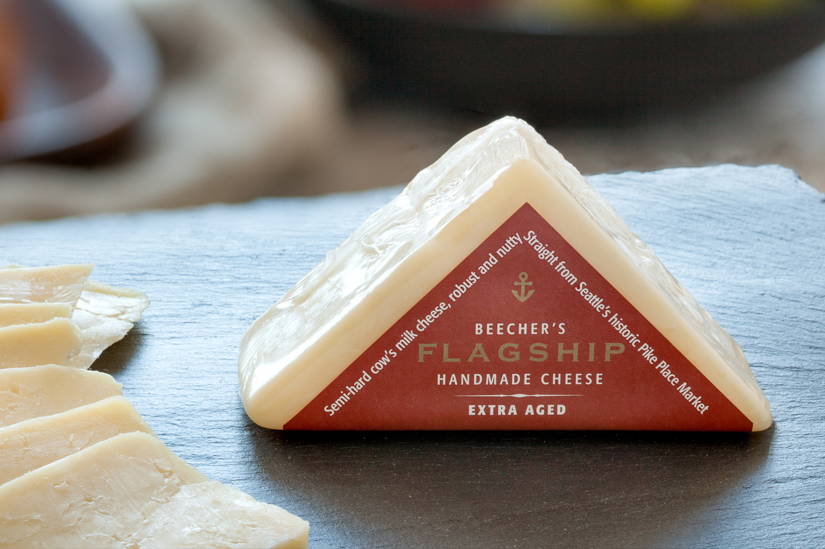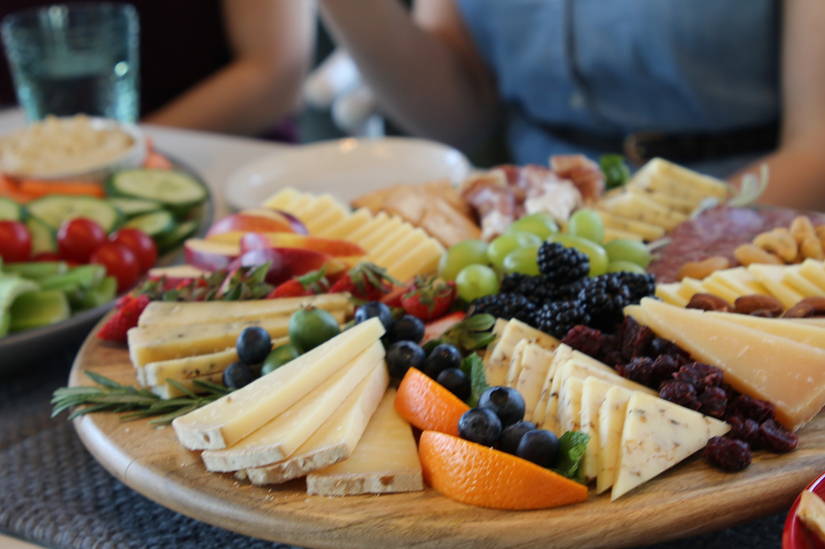 ADDING SOME FUN - PAIRINGS
Now that you are experts on these cheeses, add some fun with delicious accompaniments. From wine, to fruits, chocolate, nuts - and more - we have all the information needed to match up your cheese with the delicious partner.
CHEESE-INSPIRED RECIPES
The best thing about full-flavored, artisan cheeses, is that they are fun to cook with! Their flavor stays true through a dish - you can literally taste the difference.